The majority of Scotch whisky distilleries have done away with floor maltings, while just a few have retained the old tradition. But for what purpose? To improve the flavour of the whisky, or to inject a little romance into distillery visits? Tom Bruce-Gardyne investigates.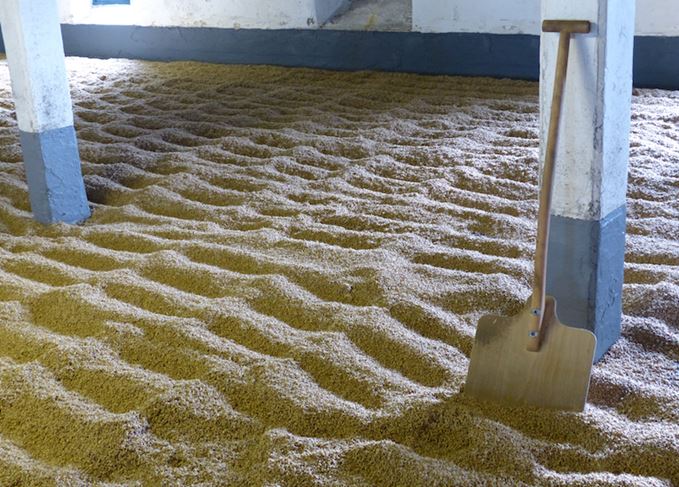 If your first proper distillery tour was one with floor maltings, it can be a hard act to follow. Mine was Bowmore, where I was taken around by the then manager Jim McEwan.
Seeing the sea of grain on the floor, the smouldering bricks of peat in the kiln and the blue smoke wafting from the pagoda roof, it all seemed wonderfully artisan and self-contained.
Subsequent distillery trips definitely lacked something. There was invariably a pagoda roof, but no smoke and no floor malting, which had been ripped out decades ago and replaced with a visitor centre or a café.
But, while floor maltings undoubtedly enhance the experience of traipsing round a distillery, do they do anything for the whisky?
Among the handful of distilleries that still have them, such as Laphroaig and Highland Park, does something magical happen to the grain on its journey from a cold stone floor – and does that magic transmit to the dram? Or is it just quaint and couthie, and good for the brochure?
When it comes to distillery floor maltings – are they really just marketing?


No: Jason Craig, brand director, Highland Park
'To think of floor maltings as "marketing" is to misunderstand Scotch whisky. First, there are so many reasons why you wouldn't do it. It costs more per tonne to produce, and it's difficult to control because it's not done in an industrial space the size of an aircraft hangar, where millions of tonnes are malted every year. The yield is generally less and, besides, it's difficult to cut peat, particularly on an island.
'Of the 118 active distilleries in Scotland, I think only about eight or nine of us still do this, but they include some of the great single malts like Laphroaig and Bowmore. Are their maltings just marketing ventures or visitor centre "Disneyland" experiences? Are you really saying those guys are not getting a lot of flavour from them?
'If Orkney peat is so important to Highland Park, you could just send it to Simpsons Maltings in the Borders, who supply all of our unpeated malt. But we've tried this and it doesn't work – it changes the character.
'There is something magical about a Y-shaped room that's been there for the thick end of 200 years and whose only air conditioning is a set of eight windows on either side. When we've steeped the barley, spread it on the floor, turned it every eight hours for a week and burnt the peat in the kilns, it has a very different impact.
'If this was just a marketing story and added no flavour to the whisky – why the hell would you do it? We know through tests that were about trying to cut costs that it diminishes the character of Highland Park, and you don't get that heather-honey sweetness balanced with ageing in Sherry casks.
'I know there are accountants at Edrington who hold their head in their hands, and cry: "Why are we spending all this extra money?" There are cheaper, more efficient and less romantic ways of doing this, but the truth is great whiskies are not made on a spreadsheet; they're not created on Excel.
'We've got something really different. If you ask why we win all these awards, and are considered the "greatest all-rounder", it goes back a long way. In the 1920s, we were sought out by the likes of Dewar's, Distillers Company Limited (DCL) and Arthur Bell as a top dressing for their finest blends.
'Without floor maltings, we'd run the risk of becoming "mainstream smoky" or "an island-based Macallan". Hand on heart, we'd continue floor maltings regardless of whether visitors came to the distillery.'


Yes: Neil Boyd, director of malts, Ian Macleod Distillers
'I've been in the industry since 1990 and have worked with Whyte & Mackay, Glenmorangie, Bacardi and now Ian Macleod Distillers. During that time I've worked with 12 individual malt distilleries from Dalmore to Glengoyne and Tamdhu today, and none of them have had floor maltings.
'With Tamdhu, we chose not to re-open the Saladin maltings and we don't believe there's been any difference in the spirit quality.
'I'm in the camp that believes the production of malt for malt whisky is best left to the experts – ie the maltsters. It's about being able to access good-quality grain at the outset, and we feel they are more able to do that than we are. It's about ensuring a sufficient supply of good-quality grain and meeting your production requirements. The guarantees a professional maltster can bring are very big plus points.
'We know that modern production methods of maltsters are much more advanced these days, and they have the facilities to supply grain at whatever specification we need consistently. And they don't let us down. The real measure of that is the quality of the spirit that comes off the still.
'We believe the most important element in determining the quality and character of the spirit is the distillation and the distillery, rather than the grain. Of course, if you're producing a peated malt the grain has more influence, but the maltsters can supply it with whatever phenols you desire.
'Also, as your brand grows it becomes much more difficult to keep running your own maltings. It strikes me you run the risk of not having consistent, high-quality malt. You are a whisky distiller; you're not a maltster. You're reliant on local farmers. What do you do if the crop's not particularly good, or if you've had a particularly wet harvest, or if it's late?
'Whisky making is now a big, international, mature industry – and that applies to malts as much as blends – and we need to reduce the risks of where you might fall down. So it's about reliance, certainty and consistency – those are the key things we need in an increasingly sophisticated and competitive market.
'I can understand how attractive it is to the visitor to see how the very traditional methods were carried out, but I'm tempted to ask: if it's a key factor in the production of malt whisky, why are they not doing it at such great distilleries as Macallan, Glenmorangie and Lagavulin? If it genuinely improved the quality of the whisky, surely more of us would be doing it.'

In Conclusion...
On this last point, it seems the Scotch whisky industry is firmly on Boyd's side. Only a handful of distilleries have stuck to tradition, compared to the vast majority who haven't. Diageo has no floor maltings at all, and it's doubtful the firm dithered for too long about whether to install one at Roseisle – its new mega-distillery on Speyside.
Then again, most of the existing maltings were abandoned in the 1960s in the name of efficiency and cost-cutting, when the distilleries concerned were like factories, pumping out a raw ingredient for blends. Would they have been ripped out with such abandon if they were already famous for their single malts, and did the distillers really study the impact on spirit character?
It appears that the bosses of Highland Park did, and concluded that the old ways must be preserved despite the hassle and expense. Craig's argument is not that floor maltings make for a better whisky, just one that is uniquely different.