Beam Suntory master blender and strategic inventory manager Ron Welsh might never have made it into whisky, but for the decline in the steel industry. He took a job at Strathclyde grain distillery – and hasn't left Scotch since. He tells Gavin D Smith about working with industry legends, cask experiments and his passion for rugby.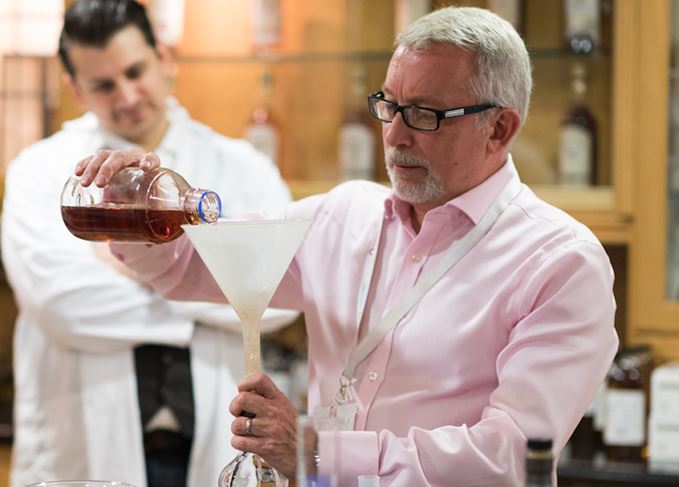 'I was born in Paisley, near Glasgow, and my father was financial director for what was then Coats Patons – the sewing thread manufacturer. When I was a boy Coats was still a very large employer in Paisley, with two mills still working in the town.
'For the first six years of my life I travelled abroad a lot with my family, as my father was involved in setting up new factories in various parts of the world. In the early 1960s, when I was very young, my two brothers and I were taken to Venezuela and Argentina, and later we lived in Portugal.
'When we came back to Scotland I finished my schooling and then studied at Strathclyde University for a chemical engineering degree. In 1983 I went into Ravenscraig Steelworks, near Motherwell, operated by British Steel.
'There were 6,000 employees at Ravenscraig when I went there, but that had been run down quite a bit already. Latterly I was casting manager, but left in 1991 as they were running the plant down prior to closure.
'I was lucky enough to be able to go back to university and took a Master's Degree in information technology, but unemployment in Lanarkshire became a big problem, which continues to this day.
'When I graduated, I looked around for an IT job, then took a shift manager's role at Strathclyde grain distillery in Glasgow, which was owned by Allied Distillers. I was there for seven years, and worked closely with the legendary master blender Robert Hicks and with Sandy Hyslop, now Ballantine's master blender and director of blending, on spirit quality, and began to get involved with quality control.

Tough decision: Ron Welsh was involved in the closure of Dumbarton grain distillery in 2002

'I then took on a project role looking at Allied Domecq's grain distillation capacity, mapping out the future. We had Dumbarton and Strathclyde grain distilleries, and I was partly responsible for the decision to close down Dumbarton, which happened in 2002.
'It wasn't a decision that was taken lightly, but there was an over-supply of grain whisky at the time and the spirit from Dumbarton was more expensive than the alternatives, partly as the distillery was quite manually intensive.
'Robert Hicks was responsible for making changes to the brand recipes to work with Strathclyde, Girvan and North British grains. In terms of Allied's brands at the time, we were talking principally about Ballantine's, Teacher's and Long John blends.
'I then went to Kilmalid to the bulk stocks department, where I was involved with planning new fillings and cask selection for all our blends and single malts, under the tutelage of Robert. We discussed blend recipes – which malts we'd replace if and when we ran out of some – and it was a great grounding.
'Then I got into nosing blends prior to bottling, working with samples in the lab, which led me on to the path I'm currently on. I did that from 2000 to 2005, then Pernod Ricard and Fortune Brands bought Allied Domecq, and I moved over to Fortune Brands, where I carried on pretty much the same role as previously.

Bowmore casks: Welsh has been involved with the Islay distillery since 2014

'Before Allied was taken over, Robert Hicks had the idea of finishing some single malts in quarter casks, after initial Bourbon cask maturation, and I sourced the quarter casks from the Speyside Cooperage.
'This was 2003/4, and we tried doing it with all the single malt brands we had at the time, but it worked best with Ardmore and Laphroaig. It gives a unique twist to a single malt, particularly peated ones like those. You get coconut notes coming over from the quarter casks, which works really well with the peat.
'Beam was bought by Suntory in 2014, which meant Ardmore, Laphroaig and Teacher's joined the Morrison Bowmore Distillers brands – Bowmore, Auchentoshan and Glen Garioch. A new structure was put in place, with me taking over inventory management and spirit quality, with Rachel Barrie reporting to me.
'When Rachel was appointed master blender with BenRiach I mused on whether we should take on an established master blender or change my role so I could do it. I opted for the latter, and for me, the really exciting part of the job now is being master blender. I've been responsible for creating all new expressions of Laphroaig and Ardmore since 2009, and now I have the whole portfolio.

From the air: Ron Welsh has created all new expressions of Laphroaig since 2009

'With Laphroaig I came up with various new expressions, including QA Cask – finished in charred American oak casks, 1815 Edition – matured in first-fill Bourbon barrels and new European oak hogsheads, and Select – for which the cask recipe includes oloroso Sherry hogsheads, white American oak barrels, Pedro Ximénez hogsheads, quarter casks and first-fill Bourbon casks.
'For years, Laphroaig was only filled into ex-Maker's Mark Bourbon barrels. That was all you had. Robert Hicks started doing Quarter Cask and Triple Wood as ways of changing the profile of expressions of Laphroaig, and that continued with PX – which used American oak casks, quarter casks and Pedro Ximénez casks.
'From 2006 I started filling Laphroaig into some different casks, and this resulted in Lore – matured in five different cask types. It was the first time we had Laphroaig that had been filled into different casks from the start, rather than just a finish, and I felt that was an achievement.
'I'm also really pleased with Laphroaig 18-year-old. I said we should go from 15 to 18 years old, and it's been very well-received. That was another of the expressions I developed.
'Rachel had already created some new Bowmores, including the 15-year-old for travel retail, and I'm just carrying them forward. When it comes to Auchentoshan, it's very easy to get new flavours through different cask types and previous contents, because of its style.

Sense of continuity: Welsh is carrying on Rachel Barrie's work with Bowmore

'I've developed with the winning bartenders a second edition of the Bartender's Malt, which is due to be bottled in April, and there are another couple of new expressions I'm desperate to get out there. Chapters 3 and 4 of the Glen Garioch Renaissance at cask strength will also be bottled before too long.
'In terms of actually drinking whisky myself, I had my first one when I was 18 in a working man's pub in Ardrossan, Ayrshire after a wedding. It was probably Whyte & Mackay, and I didn't have another whisky for several years after that!
'When I did, I was working in the industry, and it was Ballantine's 12-year-old – not at all fiery, and well-balanced. I was just an occasional whisky drinker then, and I still am, really.
'I enjoy Bowmore 15-year-old – which used to be called Darkest, and Auchentoshan Blood Oak from its travel retail range. With Laphroaig, it has to be the 18-year-old, but it's no longer available.
'When I'm not working I spend time with my family – I have two school-age children – and my great passion is international rugby. I try to get to a couple of games in each Six Nations championship, so this is an exciting time of year for me.
'The Six Nations in 2018 is there for the taking by Scotland. When they win the championship in Rome, I'm glad I'll be there to see it!'