Whether you like your pancakes with sugar and lemon, a dollop of Nutella or sprinkled with cheese and ham – a dash of whisky will be sure to enhance your Pancake Day experience. Martine Nouet shares her favourite drams and recipes to add a Scottish – and French – touch to any Pancake Day feast.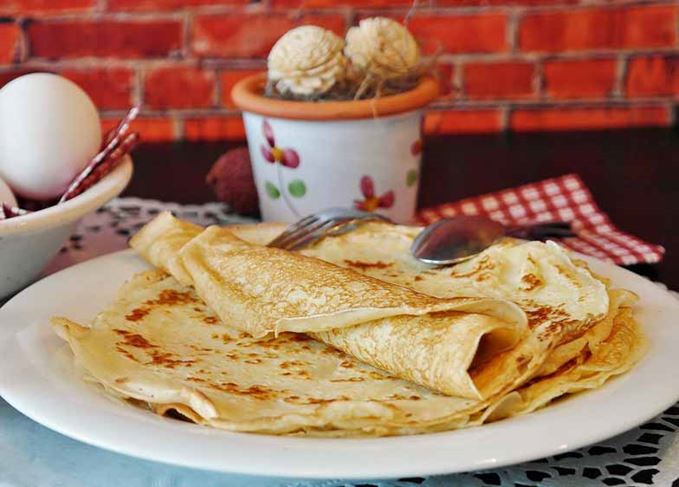 Many of us follow the tradition of eating pancakes on Shrove Tuesday, but do we all know the meaning of this popular practice? It takes its roots in the Christian calendar. Shrove Tuesday (Mardi-Gras in French, which translates to 'fat Tuesday') is the day preceding Ash Wednesday, which marks the beginning of Lent.
Lent reminds Christians of Christ's fasting for 40 days in the desert. Before entering the fasting period, Christians used to indulge in food on Shrove Tuesday and that festive diet included rich, fatty dishes, hence the name Mardi-Gras. Coincidentally, I was born on a Shrove Tuesday. This may explain why I am such an unrepentant foodie.
In my family we would never miss a Pancake Day. My mum used to make a huge pile of pancakes for a full table of hungry kids. If the pancake tradition is observed in all regions of France, the prize goes to Brittany, renowned for the quality and thinness of large pancakes often filled with a variety of ingredients.
So why not respect the tradition and plan a Pancake Day meal with a French touch? When it comes to pairing whisky and pancakes, it all depends on what you eat them with.
If you stick to the simple butter and sugar topping – maybe with a dash of lemon juice – you ought to go for a light single malt or grain whisky, both matured in Bourbon casks (for instance Hedonism from Compass Box, Auchentoshan American Wood or The Glenlivet Founder's Reserve). The harmony will focus on the vanilla notes and creamy texture.
Or would you like to be a little more adventurous? See below for some ideas for tasty fillings.

Keep it simple: The classic butter, sugar and lemon pancake topping is a guaranteed winner

Pancake recipe
Ingredients:
4 Eggs
300g Flour
Pinch of salt
50g melted butter or 1tbsp oil
750ml milk
2tsp sugar (if dessert pancakes)
Method: Lightly beat the eggs, add them to the flour with salt and sugar (if making a sweet recipe). Mix together and slowly add the milk, and then the butter. Leave to rest for one hour or so. Of course, you have the option to flavour the batter with a good dash of whisky, the choice depending on what you will fill your pancakes with.
Heat a non-stick frying pan until very hot then add a little oil. Pour in one ladleful of pancake mix, quickly turning the pan to coat the base evenly with the batter. Cook for 30 seconds to one minute until the base is lightly browned. With a palette knife, flip the pancake and cook on the other side for a few seconds. Repeat the process and keep the pancakes warm. The challenge is to make the pancakes as thin as possible.
For added flavour, try these simple tips: add two tablespoons of grated lemon or orange zest to the batter; replace sugar with maple syrup or clear honey; for a savoury dish, add chopped herbs to the batter (dill, tarragon or coriander); or replace the melted butter with truffle oil.
Savoury pancakes
As a starter: Stir fry an assortment of Mediterranean vegetables in olive oil. Roll them in a pancake with a slice of goat's cheese. Sprinkle with grated parmigiano cheese and bake in the oven for 6-8 minutes. You can also serve the vegetables cold and present the pancake as a wrap.
My choice of whisky: Cragganmore 12 Year Old with its garden thyme notes and fruity profile will make a good pairing.
As a main course: Fill pancakes with pan-fried mushrooms and chopped chicken breast, all wrapped into a creamy sauce. Bake in the oven for eight minutes.
My choice of whisky: A malty Highland or Island single malt with an earthy touch will be the best match for this dish, such as Highland Park 12 Year Old, Old Pulteney 12 Year Old or Tomatin 12 Year Old.

A theatrical touch: For the more adventurous cook, try a pancake flambéed with Cognac and serve your Scotch on the side

To flambé or not to flambé?
I am not a great fan of flambé dishes. I often say that what you gain in show is lost in flavour. But I would make an exception for pancakes. Maybe because of the emblematic Crêpes Suzette. Even Bob Dylan refers to them in Bob Dylan's 115th Dream:
'I went to a restaurant...
'I ordered some Suzette
'I said: "Could you please make that crepe?"
'Just then the whole kitchen exploded
'From boilin' fat.'
Crêpes Suzette are laced with a Grand Marnier and Cognac syrup flavoured with orange juice and zest. They are flambéed with Grand Marnier in front of the guests – pretty spectacular.
A Scottish version would replace the Cognac with a single malt whisky, but I would keep the Grand Marnier as it is the signature of the dish. Unless I can put my hand on the wonderful Orangerie from Compass Box, that is, which is not a liqueur but a whisky infusion.
One or the other can be complemented by a fruity single malt such as Aberlour 18 Year Old or Balvenie Doublewood. A peated single malt would make a perfect matching too, such as Ardbeg, Caol Ila, Kilchoman or Talisker.
What about waffles?
The recipe is similar to pancake batter as it uses the same ingredients. Waffle batter is easy to prepare and offers a large range of combinations – you will need a waffle maker though.
Waffle batter
Ingredients:
3 Eggs
400ml Milk
300g Flour
3g Baking powder
70g Melted butter
Pinch of salt (or sugar if served as a dessert)
Method: Separate the egg yolk and white. Whisk the egg white until soft peaks form. Like with the pancakes, waffles will make a whole meal. They can easily be warmed up in a toaster or in the oven.
As a starter: Add chopped dill to the batter. Make mini-waffles and serve them with sour cream and smoked salmon.
My choice of whisky: Glenmorangie Original will be the perfect companion for this dish. Even better if it is served slightly chilled (leave for one hour in the fridge).

Sweet or savoury: Waffles make a great alternative to pancakes as a dessert or starter

As a dessert: Top a warm waffle with ice cream (cinnamon, gingerbread or salted caramel flavour) or a sorbet (orange, pear or cocoa), and pour a ribbon of warm chocolate sauce on the waffle.
My choice of whisky: Depending on the ice cream you choose, you can serve this scrumptious dessert either with a spicy whisky such as Spice Tree from Compass Box, Longmorn or Glengoyne 12 Year Old. Or with a Sherried single malt such as Linkwood, Mortlach, Glenfarclas or Dalmore.