A seminal tasting experience with Ronnie Cox of Glenrothes lured German management consultant Michael Weng into a long-running love affair with the single malts of Scotland – and Speyside in particular. He spoke to Angus MacRaild.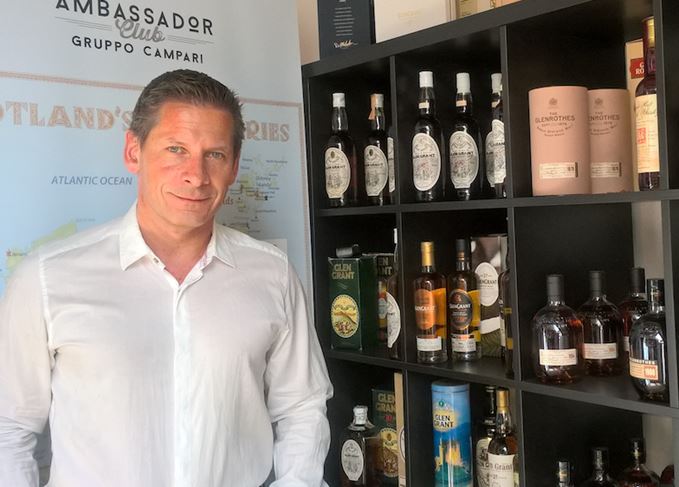 Who are you and what do you do?
'I'm Michael Weng, born in 1967 and living in Germany. After studying economics and business administration, I have been working as a management consultant for some years before changing to the energy branch. Now I am doing corporate strategy for a regional grid operator in Bavaria.'
How did you get into whisky collecting?
'In the early 1990s I started drinking Johnnie Walker Black Label. Then, around the millennium, I was travelling a lot domestically and bought some different single malts at [duty free shop] Travel Value.
'By trying them I realised that there was a wide range in taste and I started to become interested in exploring a bit more. Reading some books, trying some more malts, attending tastings and whisky fairs, and my first trip to Scotland in 2008 got it started. So the passion and the stock rose.
'Then, in late 2008 after the Lehman Brothers crash, I got a second point of view. Seeing the national banks flooding the markets with easy money, I saw the need for an investment in goods to escape the expected rising inflation rates.
'As I had monitored the market and some auctions before, I decided to invest in Scotch single malt whisky. So the heart and the brain were unified in the passion for whisky.'

Glen Grant: Weng is a great fan of older Gordon & MacPhail bottlings from the distillery

What whiskies do you collect and why?
'I only collect Scottish single malts, because in this market there is a good transparency about the main topics. It´s hard to get an overview over the whole global whisky scene if your main job is not connected with spirits, so I decided to limit myself to Scotland.
'My main focus is Speyside. On the one hand, I love the typically fruity, often Sherried style of this region. On the other hand, in the last 10 years, when I visited many festivals and Speyside itself a dozen times, many of the distilleries – and especially the people working there – have become a kind of a second family.'
What is the whisky scene like in Bavaria?
'A lot of former fruit distillers in Bavaria are trying their luck with whisky. But, being honest, I'm not an expert in German whiskies.
'In Munich and some other places there are some good bars. With Finest Spirits in Munich and The Village in Nuremberg we have two of the biggest whisky fairs in Europe.

Linkwood love: One of the first collectable bottles Weng bought was a Giovinetti Linkwood

'In Regensburg we have an excellent whisky club, Slowdrink, founded by Peter Krause, who is doing some extraordinary tastings. The scene is growing and very interesting. It's not only becoming bigger – it's becoming younger and there are more women too.'
What are the favourite bottles in your collection?
'Some of my bottles have a wonderful story of how I got them – many of them with a personal dedication. Definitely I love some of my special occasion Macallans or my old Gordon & MacPhail Glen Grants, the oldest one distilled in the late 1920s.
'I also love my old Linkwoods – the Giovinetti bottling from 1939 was one of the first collectable bottles I bought 10 years ago. From Glenfarclas I have the complete Great Scots series in the wooden boxes.
'Another passion I have is for the GlenDronach single cask bottlings, which I have in three figures, including 10 hand-filled bottles from 10 distillery visits. But I am also happy to have a good stock of wonderful bottlings from the years gone to share with friends or to bring them to fairs.'

Wall of GlenDronach: Weng reckons his tally of bottles from the Speysider runs into 'three figures'

What would be your 'holy grail' bottle or bottles to acquire?
'For example: I have 25 Flora and Fauna bottlings; the only one missing is Speyburn. But I am not willing to pay a stupid price for a former standard bottle that used to cost £20, and that I won't drink anyway.
'I am very happy to have the chance to try many "holy grail" bottles or casks by visiting friends, tastings or fairs. That is better than looking at them on a shelf.'
What are the most interesting Speyside distilleries to follow from a drinking perspective?
'There is a lot of development these days. So for me there are many interesting Speyside distilleries to follow attentively. If you are looking for value for money, you will be perfectly happy with Glen Grant 10 Year Old.
'Other favourites are still Glenfiddich, which provides a wonderful consistency and widens the connoisseur's experience with new ideas. As a Sherry aficionado, I can choose from an excellent selection of my favourite Macallan, Glenfarclas and GlenDronach.
'Not to forget the still underrated Glenrothes and Glen Moray that had probably the biggest improvement of all distilleries in the last five to 10 years.
'Thinking about your question, I really feel sure that Speyside is the right place for me to call home.'

Missing link: Only Speyburn is missing from Weng's Flora & Fauna collection – but he doesn't care

What are your favourite everyday whiskies?
'I always have about 30 open bottles. Regularly you will find there an Aberlour a'bunadh or a Glenfarclas 105, GlenDronach Allardice, Parliament or single cask, Glenrothes Vintage Reserve (my favourite for the afternoon), Glenfiddich 12, 15 or 18 and Project XX, but also some heavier stuff like Talisker, Highland Park, Bowmore and Lagavulin.
'What's never missing are old standard bottlings like Tamnavulin 12, Longmorn 15, Balblair 5, Glen Grant 5, Glenfiddich over 8 years or Glenlivet unblended all malt.'
What are the best whiskies you've tasted?
'Fortunately, I had the chance to try many extraordinary whiskies. But there are some I will remember until the end of my life. The first of these I tried with Dennis Malcolm in the Victorian garden at Glen Grant distillery almost 10 years ago – it was a 1961 first-fill Sherry single cask.
'Another one is the Highland Park Orcadian Vintage 1964. I also tried a number of Macallan Fine and Rare; the most impressive for me was 1950. I always have happy memories of Glenfarclas Family Casks 1959 and 1972.

The M-word: Given Weng's love of Speyside and Sherry, Macallan was always likely to feature

'The best fruit basket I have ever found in a dram was in the White Bowmore. The latest one of these dream drams was the Glenfiddich 1987 Anniversary Vintage I tried last month. Another all-time favourite is the Glen Grant 50 Year Old original bottling.
'I think I could go on with the list for a while, but one more I have to mention: as a present for my 50th birthday I got from Macallan a sample of a really exceptional cask from 1950, sampled on my birthday 67 years later.'
What has been the best whisky experience of your life so far?
'Whisky has given me so many happy times over the last decade. To point out one, I would say my last birthday. I celebrated my 50th birthday last September at the Highlander Inn in Craigellachie with some good friends from Speyside and Germany. We spent a night together with fine drams and celebrated the good times and the passion for the water of life.
'If I had to point out a second one, I would go for my first serious introduction into the world of distilling and tasting by the awesome Ronnie Cox at Glenrothes Distillery more than 10 years ago. That is how it started and why I am still so enthusiastic.'