We all have our favourite drams, but which are the most popular Scotch whisky brands on the planet? As you might expect, the global top 10 contains some household names, but also some less heralded brands – and there isn't a single malt in sight. Richard Woodard reports.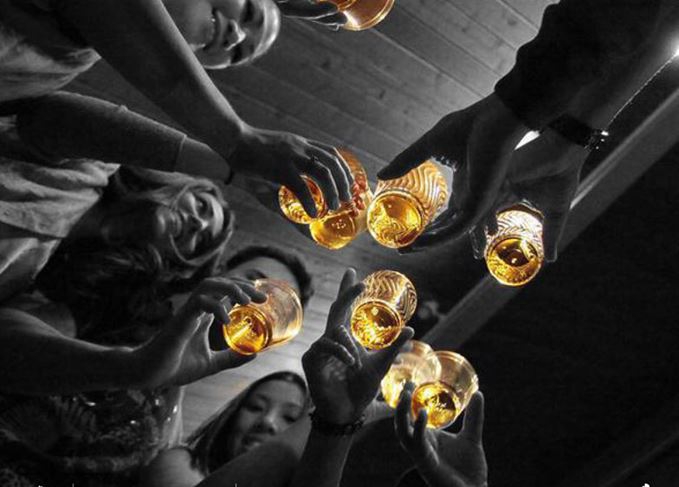 If ever you need to be reminded of the fact that blends are the engine room of the Scotch whisky industry, just take a look at the top 10 best-selling brands in the world.
Not one of them is a single malt – in fact, none make the top 20 either – with the list dominated by household names, interspersed with one or two less heralded brands.
Some things don't change, however. The biggest behemoth of them all, Johnnie Walker, continues to stride ahead of the pack, outselling its nearest three competitors combined. And the top five has remained unchanged for the past couple of years.
It's closer-fought further down the rankings – there's almost a three-way tie for sixth spot between Famous Grouse, William Lawson's and William Peel – while Diageo's price-fighting Black & White blend has surged into the top 10 after smashing through the two million-case barrier in 2017.
Our list is based on volume figures, which have been provided by the leading drinks industry data provider and commentator, the IWSR Magazine, and which is measured in terms of sales of nine-litre cases.
It's a picture that changes notably if you compile a top 10 based on value, not volume; on that measure, the higher prices of single malts bring Macallan and Glenfiddich into the global top 10, with The Glenlivet lurking on the fringes, while the likes of William Lawson's, William Peel and Black & White exit the rankings.
But that, as they say, is another story…

1: Johnnie Walker

Sales in 2017: 18.1m cases
Versus 2016: +2%
Ranking in 2016: 1
Popular in…: Duty free, US, Mexico, Brazil
Owner: Diageo
The world's most popular Scotch whisky dwarfs the opposition, selling more than 2.5 times more than its nearest competitor. It's come a long way from the Kilmarnock grocery shop opened by John Walker back in 1820.
Johnnie Walker has occupied the global top spot since the mid-1950s, and has held onto that position thanks in part to its instantly recognisable square bottle, slanting label and striding man logo, first sketched by cartoonist Tom Browne in 1908.
Since then, the Walker family has expanded considerably to include a number of colour variations, from Double Black to Green and Blue; and 2017 was a year of more innovation, including Blenders' Batch and Ghost & Rare launches, as well as the rechristening of Platinum Label as Johnnie Walker Aged 18 Years.

2: Ballantine's

Sales in 2017: 6.7m cases
Versus 2016: +3.8%
Ranking in 2016: 2
Popular in…: France, Poland, Spain, Germany
Owner: Chivas Brothers/Pernod Ricard
While blended Scotch has had a tricky time in many markets over the past few years, Ballantine's has kept on growing, adding almost 1m cases of sales a year since 2013.
Like Johnnie Walker, its story begins in a shop – George Ballantine's store in Edinburgh, to be precise, which opened in 1827. Since then, its history has been shaped by the launch in 1910 of flagship blend Ballantine's Finest, and by the decision in the 1960s of its then Canadian owner to focus on selling its whiskies across Europe.
That philosophy has endured, for good and ill – Ballantine's was impacted by the demise of the Spanish Scotch market post-millennium, but has been a huge success story in Poland as people there increasingly swap vodka for Scotch.
Remaining constant are the core single malts in the blend, Glenburgie, Glentauchers and Miltonduff, and the fine marriage of smoothness and complexity found in classic expressions such as Ballantine's 17 Year Old.

3: Grant's

Sales in 2017: 4.5m cases
Versus 2016: +1.1%
Ranking in 2016: 3
Popular in…: France, UK, Poland
Owner: William Grant & Sons
Like many of its rival blends, Grant's has found some of its markets increasingly challenging in the recent past, but a welcome uptick in sales since 2015 has seen it claim the global number three spot from Chivas Regal.
Unusually, the story begins with a single malt: William Grant only started selling blended whisky in 1898, more than a decade after establishing Glenfiddich distillery near Dufftown. After a few branding false starts, Grant's Standfast was the name that found success – and 'Standfast' is written on every bottle to this day.
Earlier this year, the company announced a wholesale revamp of the Grant's range, renaming core expression Family Reserve as Triple Wood, and introducing new peated, Sherry- and rum-finished variants.

4: Chivas Regal

Sales in 2017: 4.4m cases
Versus 2016: +1.1%
Ranking in 2016: 4
Popular in…: Duty free, China, US, Japan
Owner: Chivas Brothers/Pernod Ricard
The past decade has been something of a rollercoaster for 'the original luxury Scotch' – but that's perfectly in tune with its tumultuous history.
Originally launched as a (then unprecedented) 25-year-old blend targeting the high society of early 20th-century America, Chivas Regal has been through multiple rebirths under a number of different owners, settling on a core 12-year-old expression from the Second World War onwards.
During the post-millennium luxury boom in China, it was the country's leading imported spirit, before sales crashed in the aftermath of the Chinese government's anti-extravagance crackdown. Since then, it has limped along before staging a marginal recovery last year.
Recent innovations include blended malt Ultis, Cognac-finished Chivas Regal XV and a tie-in with Manchester United FC. Now sales in China are finally rebounding, and Chivas Regal is back (again).

5: J&B

Sales in 2017: 3.3m cases
Versus 2016: -3.3%
Ranking in 2016: 5
Popular in…: Spain, France, South Africa
Owner: Diageo
It may seem odd that a product with its roots deep in the genteel environs of London's clubland has become the party whisky of the Mediterranean, but that's the unlikely story of J&B.
A wine merchant in Pall Mall, Justerini & Brooks began blending whisky in the 1880s, but the business really took off in the 1930s with the introduction of J&B Rare, a light-coloured and light-bodied blend aimed at the American palate.
It worked, but Stateside success was later overtaken by J&B's spearheading of Spain's Scotch boom, encapsulated by party bars offering generous pours of 'Jota B' with Coke.
Spain's decline, however, has hit J&B hard, and sales have been falling on an annual basis for several years now. Light, fresh and grassy, with Knockando and Auchroisk single malts at its heart, J&B is now waiting to get the party started again.

6=: Famous Grouse

Sales in 2017: 3.04m cases
Versus 2016: +0.5%
Ranking in 2016: 6
Popular in…: UK, duty free, US
Owner: Edrington
Scotland's favourite Scotch remains big in the UK in general, with more than half of its global sales occurring there. Brits may have a faltering love for blends, but Grouse is still hugely popular, increasing its market share to more than 25%.
The brand's roots lie in another grocer's shop, this time in Perth, and Matthew Gloag. In 1897, two blends – The Grouse Brand and, at a lower price, The Famous Grouse – were released; the latter was the one to catch on.
The modern Grouse range has been through many changes and tinkerings, with the main line-up now comprising the flagship eponymous expression, flanked by The Famous Grouse Smoky Black and The Famous Grouse Mellow Gold.
The Naked Grouse, now a blended malt, has officially exited the family, while this year has seen the introduction of a new Cask Series exploring maturation character.

6: William Lawson's

Sales in 2017: 3.04m cases
Versus 2016: +4.7%
Ranking in 2016: 8
Popular in…: France, Russia, Mexico
Owner: Bacardi
A sweetish blend with the single malt of Macduff at its core, William Lawson's has been owned by rum giant Bacardi since 1993, when it bought the Martini & Rossi sparkling wine and vermouth business (which had itself acquired Lawson's 30 years earlier).
Since then, William Lawson's has led the charge in some of the Scotch's fastest-growing markets, such as Russia and Mexico, and won popularity in the biggest destination of them all, France.
William Lawson himself was a Scot who emigrated to Ireland, entering the whiskey business there. He was sacked as a company director in 1903, but the whisky he gave his name to endured.

8: William Peel

Sales in 2017: 3.03m cases
Versus 2016: +2.9%
Ranking in 2016: 7
Popular in…: France
Owner: Marie Brizard Wine & Spirits
'William who?' some of you may be asking – but this is the best-selling whisky in the country that drinks more Scotch than any other on the planet: France. Barring a small presence in Poland, William Peel sells almost all of its products in French bars and hypermarchés, and those sales have been growing ahead of the market for a few years now.
There's no romantic historical association here; William Peel was created by drinks entrepreneur Bernard Magrez in 1964, initially as an umbrella brand for single malts, but then as a mass-market blend.
Magrez has since moved into the world of fine wine (owning a number of top-notch Bordeaux estates, including Château Pape-Clément), and William Peel is now with Marie Brizard – a company in some difficulty at the time of writing after a series of profit warnings.

9: Dewar's

Sales in 2017: 2.5m cases
Versus 2016: -5.2%
Ranking in 2016: 9
Popular in…: US, Spain, duty free
Owner: Bacardi
Just a few years ago, Dewar's outsold Bacardi stablemate William Lawson's, but contrasting fortunes for the pair have seen them swap positions, with Dewar's impacted by the sliding popularity of blends in the US and Spain.
Nonetheless, Dewar's White Label remains one of the industry's classic blends, its honey- and vanilla-accented flavour profile perfectly attuned to the post-war American palate. Dewar's still sells 1m cases of whisky there every year.
Early success was built on the complementary skills of brothers John and Tommy Dewar – the latter famed for his flamboyant marketing nous and two-year-long journey around the world.
Now the company has reinforced its commitment to age statements with the recent introduction of Dewar's 25 Year Old to replace Signature.

10: Black & White

Sales in 2017: 2.3m cases
Versus 2016: +27.1%
Ranking in 2016: 12
Popular in…: Brazil, Mexico, India, South Africa
Owner: Diageo
Four years ago, Black & White would scarcely have made a top 20 of the world's best-selling Scotch whiskies, let alone a top 10. Its rise in popularity since then has been remarkable.
Much of that success has been built on Black & White's competitive pricing and its historic links to fellow Diageo blend Buchanan's, a hugely popular product in Black & White's Latin American heartland.
Legend has it that James Buchanan, one of the Victorian whisky barons, chose as brand mascots a black Scottie dog and a white Westie, or West Highland terrier, after attending a dog show.
Since then, Black & White's canine branding has been much-travelled – once the most popular blend in England, and even drunk by the Emperor of Japan in the early 20th century – and has featured in F Scott Fitzgerald's Tender is the Night, and Ian Fleming's Moonraker.