The past 12 months have been relatively quiet in terms of new distillery openings, but as Becky Paskin reveals, 2019 will be an even more exciting year for Scotch whisky.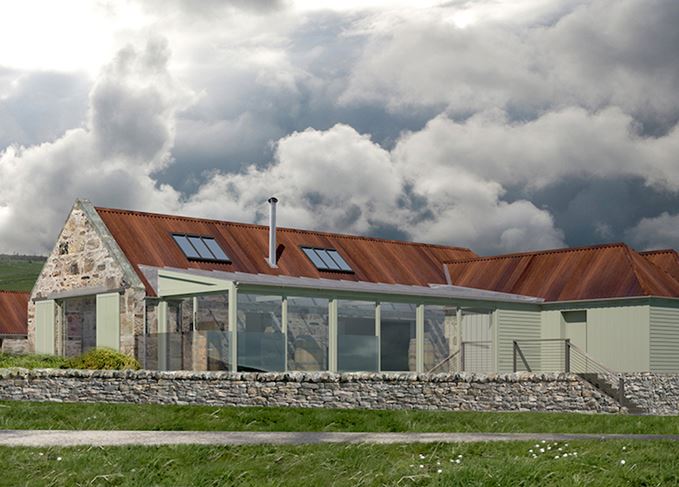 Scotch drinkers have never had so much choice. With more than 130 whisky distilleries now operational in Scotland – each making its own unique style of grain or malt spirit – the world has arguably hit peak whisky fever.
Scotch distilleries are opening at an unprecedented level not seen since the late 18th century, with more than 40 new and resurrected sites set to open this decade alone. But in comparison to recent years, 2018 was relatively calm on the new distillery front.
Just a handful of new players were welcomed to the Scotch whisky scene, including Borders distillery in Hawick; Burnbrae in East Kilbride; and Chain Pier in Edinburgh, the city's first malt distillery since the closure of Glen Sciennes in 1925.
This year was primed to be a biggie, with at least 10 new operations slated to open, although anyone involved with bringing a multi-million pound project to life will know that deadlines are moveable targets. Several sites have therefore tipped over into 2019's court.
Although life has been quiet in terms of ribbon cutting, there's been plenty of news regarding plans for new sites. Elixir Distillers submitted plans for its contemporary distillery at Farkin on Islay; Speymalt – the owner of indie bottler Gordon & MacPhail – launched a public consultation regarding its plans for a distillery at Craggan; Historic Environment Scotland hinted that Dallas Dhu could be revived; plus plans for a 'Whisky Galore' distillery on South Uist were floated.
There are currently around 30 new distilleries in the planning or construction phases, with most opening dates diarised for 2020 and 2021. The most progressed projects include Edinburgh's fourth distillery in the shape of the vertical Port of Leith; a distillery and microbrewery at Ardgowan; Elixir Distillers' aforementioned 'contemporary' distillery on Islay; plus the resurrection of Brora, Port Ellen and Rosebank.
Other distilleries working through funding or planning issues include Dunrobin in Sutherland, which is seeking investors to raise the £6 million needed for the project; Portavadie at Polphail Village which is continuing to go through the planning process; Toulvaddie distillery at a Fearn naval base; and Islay farm distillery Gartbreck, a long-awaited distillery which may still come to fruition as owner Jean Donnay continues talks with interested investors.
For now though, these are the nine Scottish whisky distilleries set to open in 2019.

Ardnahoe distillery

Hunter Laing had hoped its first whisky distillery would be open in time for the 2018 Islay Festival last summer, though as with many distillery projects, commencement dates are always taken with a pinch of salt.
Ardnahoe is currently in the commissioning phase as its distillers – and production director Jim McEwan – check all its equipment works and fine-tune the spirit to ensure the quality is as expected.
The first casks of Ardnahoe new make spirit will be filled in 'very early' 2019, as the distillery finally opens its doors to visitors.
This year Ardnahoe will definitely share its Islay Festival open day with Bowmore on 29 May.
Find out more about Ardnahoe distillery.

Ardross distillery
291355376
The construction of the £18 million Ardross distillery at Ardross Mains, roughly 30 miles north of Inverness, is in its advanced stages and set for completion in early 2019. Having first secured planning permission in February 2017 and slated to open last year, the project is now within months of becoming operational.
The main distillery will produce single malt whisky, while a gin still and botanics mixing lab are also being planned for a separate tenement building on-site.
The site is the first outside London for Vevil International, which owns the Ned hotel and The Wolseley restaurant.
Find out more about Ardross distillery.

Cabrach distillery
The conversion of traditional farm steading buildings at Inverharroch Farm into a 'working historical' whisky distillery and heritage centre is well underway.
Once operational, the Cabrach distillery, operated by the Cabrach Trust, will distil, mature and bottle 150,000 bottles of single malt whisky each year, using 'historical' whisky-making methods from the 1820s.
All ingredients will be sourced locally, with the spirit matured in quarter casks and bottled on-site.
A heritage centre associated with the distillery will explore the Cabrach's distilling history, from the early days of farm distilling through to illicit distillation and beyond.
Find out more about Cabrach distillery.

Clutha distillery

Independent bottler Douglas Laing & Co. revealed its intentions to build a £10.7m distillery, bottling hall, visitor centre, whisky archives and head offices at Glasgow's Pacific Quay development in July 2017.
The project is now in the advanced stages of planning, and although construction is yet to begin, Douglas Laing remains confident 'Clutha will happen in 2019'.
Once it is up and running expect a 'specialist, high-end' single malt which will 'differ from traditional Lowland styles'.
Unlike some new operations, the distillery will not release a whisky younger than at least six years old, which means we'll be waiting until at least 2025 to sample the whisky.
Find out more about Clutha distillery.

Dornoch distillery 2

The Thompson brothers began distilling in February 2017 in a disused fire station close to the family-run Dornoch Castle Hotel in Sutherland.
Since then, Dornoch distillery's gin has become so popular that the brothers are planning a move to much larger premises, just 200 metres away from their existing site.
While the additional capacity will allow Dornoch to operate a more energy efficient operation, and produce 20-30% more whisky and gin, it will not affect the quality of spirit produced, which the Thompsons describe as being similar to distillates commonly made in Scotland prior to the 1960s.
A crowdfunding campaign – which is still open – has helped raise the cash needed to purchase a building on an old slater's yard. With the purchase set to complete this month, Dornoch intends to relocate its operations to the new site by the summer, and begin distilling by the autumn.
Find out more about Dornoch distillery.

Falkirk distillery

Without a doubt the most long-awaited distillery to open this year is Falkirk, a project that's taken more than 10 years to realise.
The family-owned Falkirk Whisky Distillery Company secured planning permission back in 2009, and began ground work in November 2010. However it's taken until 2019 for the Stewart family's dream to become a reality.
Set to open by the summer, Falkirk distillery will produce up to 750,000 litres of spirit a year, using a 4.5 tonne mash tun and two of the old stills from Speyside's Caperdonich distillery, which was demolished in 2011.
The Lowlands distillery is set up to produce a lighter style of whisky, with maturation taking place in an on-site dunnage warehouse.

Holyrood distillery

Holyrood was one of the distilleries that made last year's list, having been down to open by the end of 2018. With the transformation of Edinburgh's old Engine Shed into a visitor-centric whisky distillery finally kicking off last autumn, Holyrood distillery is now expected to open in mid-late 2019.
Once up and running, the distillery will produce around 100,000 litres of spirit per year, which will be used to create whisky, gin, vodka and other spirits such as liqueurs.
With its central location just yards away from the famous Royal Mile, Holyrood is expected to attract 45,000 visitors a year, eventually building to 200,000.
Find out more about Holyrood distillery.

John Crabbie distillery

Last summer spirits producer Halewood International revealed plans to build a £7m whisky distillery in Leith, from which it would spearhead the revival of the John Crabbie name.
Crabbie was a pioneer in Scotch whisky, being a co-founder and the first chairman of the North British grain distillery, and establishing a whisky blending company based in Leith.
The new distillery on Graham Street will become home to the newly relaunched Crabbie's whisky brand when it opens later this year.
The distillery will run concurrently with Halewood's new Chain Pier whisky distillery at Granton Harbour in Edinburgh, where distilling commenced in December.
Find out more about John Crabbie distillery.

Lagg distillery

Arran's second distillery is close to completion on the south end of the island. Early this year the site will commence production of a heavily-peated (50 ppm) spirit that will eventually become Lagg single malt whisky.
The distillery will take on production of all Isle of Arran Distillers' peated whisky, leaving the company's original site at Lochranza to make unpeated malt.
Lagg distillery will become dedicated to exploring the impact peat has on the flavour of whisky, so expect experimental runs with peat sourced from all across Scotland and the world.
The site will also produce its own cider and apple brandy using fruit grown in the estate's orchards.
The first 700 casks of Lagg single malt have already been offered for sale to those keen to get their hands on some of the distillery's very first whisky.